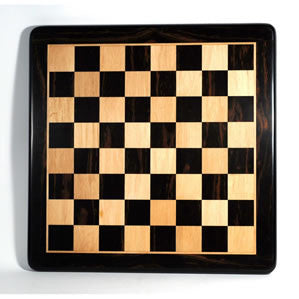 2" Ebony Chessboard with Rounded Corners 19 in.

Luxury Chess Board - Ebony with Rounded Corners 19 inches. 

Luxury chess & checkers board
Ebony and maple board with rounded corners
Board measures 19 x 19 x 0.88 in.
Squares measure 2 inches. 
Description:
This elegant chessboard is crafted from Ebony, one of the most valuable ornamental woods available. The white squares are made of maplewood. The richness of the dark wood maintains absolute elegance that captures the admiration of even the most refined chess player. A timeless classic chessboard!